Welcome!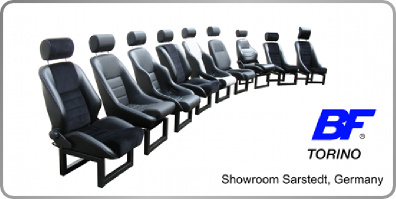 Since 1968 BF has produced seats, interior trim and upholstery for the Italian automotive industry, including almost all the famous sports car manufacturers.
The company is based near Turin, in the heart of the Italian automotive supply industry of several well-known car brands.
Quality
The operation of BF can best be described with the term manufacture. Efficient mass production, high craftsmanship and state of the art technology provide the highest quality.
Almost all materials and fabrics arrive directly from the automobile production industry, such as the leather, synthetic leather and the seat adjustment systems.
Corrision protection of the steel tube seat frames is guaranteed by coating with a cataphoresische paint system.
Head rests are always delivered together with the seats.
Production
Except for the painting, all production steps are carried out within one company:
Steel: The high-quality steel tubes are shaped and angled on CNC tube bending machines and then template welded .
Padding: The padding is made ​​of heavy duty fire-resistant foam.
Bezug: The leather seats are made completely of high quality automotive leather, including the back and side panels.